For groups of 10 or more or special requests such as handicapped seating, please call the box office at 763-553-1600 ext 1.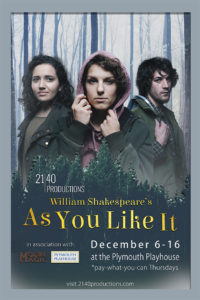 As You Like It
As You Like It – a Shakespearean comedy. Following a huge political upheaval, a ragtag band of misfits are exiled into a mystical forest. Stripped of their power, money, and material possessions, they are forced to reconsider what's actually important … which is love. Obviously. This performance is produced by 21/40 Productions.
Performances on December 6 and 13 are Pay What You're Able productions. Tickets can be purchased in person starting 1 hour prior to the performance at any price that suits you (suggested minimum is $10). Tickets are sold on a first-come, first-served basis, so we suggest arriving 30-45 minutes before show time to purchase tickets.
[civievent_widget title="" summary=0 alllink=0 limit=500 wtheme="divider" divider=", " city=0 state="none" country=0 admin_type="simple" event_type_id=10]